Teacher Bio
Shane Aldredge currently teaches piano as the director of the Athens Piano School in Athens, Georgia.
Many of his summers as a youth were spent at college music camps across the southeast where he studied solo piano performance and accompanying of singers, choirs and instrumentalists.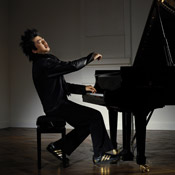 He received his Bachelors Degree in Piano Performance and Teaching with Honors from Georgia State University, 1998. During high school and college, he performed and placed in numerous festivals and competitions at the state and national level. He holds music education certificates in elementary, intermediate, and pre-college classical piano teaching and literature. Shane Aldredge is available for lectures, workshops, and clinics on various composers and piano-related topics.
He is an active member of several music professional organizations that adhere to the highest standards of professionalism in teaching and performing including the local Athens Music Teachers Association, the state Georgia Music Teachers Association, and the national Music Teachers Association. Shane Aldredge is also an active member in the Federated Music Clubs and the National Guild of Piano Teachers. These professional memberships allow interested students to enter competitions and participate in various festivals each year.
Shane Aldredge strives to maintain a diverse and comprehensive piano studio by including children, early teens, high school, UGA students and adults all with varying musical interests and abilities. Although he comes from a strict classical background, he is happy teaching, performing, and enjoying all styles of music with his students from classical to jazz and rock.
Call or email now to reserve your lesson times. Discounts for families and UGA students. Start anytime year-round!