Learn to Compose Your Own Music!

Most students within the Athens Piano School are given weekly theory assignments so the theory and composing lessons described here are for outside students studying other instruments or for Athens Piano School students interested in becoming serious composers or college theory majors. These lessons are available individually or in very small groups.
Whether you are a complete beginner interested in music composition, or an intermediate to early advanced composer these lessons are designed to enhance your skills emphasizing the joy and creativity involved in composing your own music.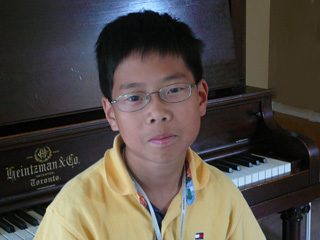 Beginning Composers
These lessons begin by making sure you have a solid foundation in notation and progress at your individual pace covering various musical components such as basic music notation and theory, beginning jazz theory, simple structures, major and minor scales, major and minor key signatures, intervals, triads and arpeggios as they relate to all styles of music.
Intermediate Composers
These lessons continue the same format and include intermediate theory and jazz theory, more advanced structures and forms, chord inversions, melody construction, combining of harmony, melody, rhythm, key changes, and chord harmonizations that include rhythmic complexity as it relates to harmonic and melodic structure, forms and themes.
Advanced Composers
These lessons continue to build upon the student's mastery of intermediate theory, increased powers of analysis and compositional techniques of more advanced music writing. Advanced theory and advanced jazz theory, chord vocabulary, cadences, transposition, modulations all are explored in the context of each individual student's own creativity process and imagination.

"What makes a great musical composition?"
Throughout your theory and composition lessons you will learn to recoginize the characteristics of a well-written musical composition, including your own music writing! In all great music, there is a clearly defined form with various parts. Consideration is given to the appropriateness of one part in relation to the other parts including length, order, key relationships and the musical character. There should be unity, or a central idea (melody), and not too many secondary ones or the piece becomes diffused. Also it is good to have a variety of changes in melody, harmony, rhythm and tonality to ensure interest and avoid repetition. Finally, there should be a balance of unity and variety which presents the piece as a well-proportioned and artistic whole.

Call or email now to reserve your lesson times. Discounts for families and UGA students. Start anytime year-round!