University Quality Piano Teaching in a Relaxed "Home-Styled" Format
Introduction
Piano Lessons are taught on a large concert artist quality, eight-foot grand piano in the upscale Athens neighborhood of Tanglewood off Timothy Road. We also have two professional upright pianos for duet playing. Parents are welcome to attend lessons or run errands as needed. Teaching is from a classical foundation, but piano lessons are tailored to each individual student's musical goals and interests including rock and jazz.
Students are provided with a well-rounded musical education in a healthy and encouraging environment that enables them to play and enjoy all styles of piano music with relaxed, correct and excellent technique. Depending on the student's interest, classical is taught exclusively or it is mixed with Jazz, Rock, Blues, Broadway Show Tunes, Movie Themes, Holiday Music, etc along with Rhythm, Scales and Technical Exercises, all aspects of Theory, Relaxation Techniques, Music History, Listening and Ear Training, Practicing Skills and Complete Artist Level Musicianship.
Calendar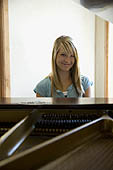 Athens Piano School provides lessons year-round in a semester system format for scheduling and organization. You may start lessons at any time.
Fall - "August through December"
Spring - "January through May"
Summer - "June and July"
No lessons are given during Thanksgiving week, the last two weeks of December, and one week at Spring break.
Recitals, Festivals, and Competitions
Recitals are optional in the Fall and Spring, but everyone is strongly encouraged to participate. There are several festivals and competitions throughout the year for those who are interested. These are limited to the "classical" piano literature.
Availability and Promptness
Weekly lessons are available Monday through Saturday. Once a specific time is agreed upon, every effort should be made to keep the lesson time that is scheduled. Students are scheduled back-to-back, so it is very important to arrive on time, or preferably a few minutes before your lesson so that we may use all of your lesson time wisely.
Make-up Lessons and "First Saturdays" Program
We realize there will be sickness, spontaneous trips to the beach, unplanned school functions, etc. For everyone's best experience with missed lessons, we have created an exciting and innovative "First Saturdays" make-up lesson program, held the first Saturday of each month (September through May) from 10:00 AM to 11:00 AM. If a student misses more than one lesson a month, you may attend as many consecutive "First Saturday" make-up times as needed for your missed lessons. The only exception is in case of a serious illness or event that causes a student to miss three or more consecutive scheduled lessons. In this case, we will make a special exception for a credit or refund, and we will work together on a case by case basis. Although extremely rare, any lessons we miss will be fully refunded.
Music Books and Resources
Students are required to purchase learning materials. In cases where we purchase the music for the student, reimbursement will be added to that month's bill.
Practice
Learning to play any instrument takes time and commitment. Results are based on the individual student's desire to learn, family support, and amount of quality practice time spent. Children and adults should practice a minimum of 30 minutes daily, five days a week for best results at lessons and home. Alternately, college students and adults may practice 60 minutes, three days a week if desired. The piano or keyboard should be in a quiet room away from TV, siblings, or any other home distractions. We realize a keyboard can open up interesting electronic sounds and computer-linked possibilities especially with rock, pop, or jazz music. A keyboard should have at least 61 full-sized touch sensitive keys that replicate the action of a regular acoustic piano. Students who wish to concentrate on learning intermediate and advanced pianism skills with music composed specifically for the piano should get a regular acoustic piano as soon as possible. Most students within the Athens Piano School practice on a regular acoustic piano.

Call or email now to reserve your lesson times. Discounts for families and UGA students. Start anytime year-round!